I am so excited about our 8 mile run yesterday! I felt great all day. I wasn't tired, I wasn't sick, not even sore!  Mid-summer, when my Thyroid (TSH) was 94, I would get back from a long run, totally wiped out!  I would be cold all day, sore, and super exhausted.  One night after a long run I had a Primary meeting.  My friends (in the presidency) told me I was acting slow and loopy!  But yesterday, I was back to myself.  More energy from the run than less!
This also helps. I am LOVING the roasted broccoli for dinner.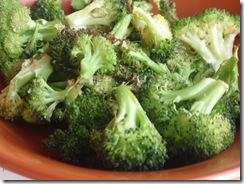 And since I was too cold to have a smoothie for breakfast, I had it for lunch! Loved it.