I'm sore from yesterday's lunges! Hooray!
This morning I ran and walked for 1 hour, and came home and found this little 10 minute pilates core workout on itunes.  I only got through about 3 minutes of it. If you know any 10 minute video yoga podcasts, let me know.
Then, cold as always after a run, I had some warm oatmeal.  I used cinnamon, raisins, and a touch of brown sugar.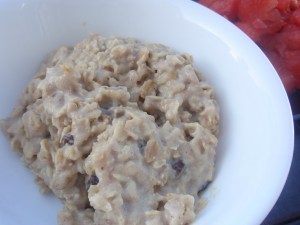 Taking Nate to piano today, coming home to clean AGAIN!! I'm shampooing our carpets with my mother in law's shampooer. Then I'm getting a hair cut at 1:00 with a neighbor.  I'll share pictures when I get back.  Tonight I have to cut my boys hair.  A little known secret about me, is that I have a cosmetology license too. Although I am NO GOOD at hair dressing.