I felt like I didn't have 6 mini-meals, but 6 MAJOR meals today!  I'm OK with it though, because this morning Eliece and I biked 12 miles and ran 5 miles.  We have a triathlon coming up mid-May.
So, before the workout, I doubled my breakfast.  4 Egg whites (with mushrooms) and oatmeal with milk and strawberries.  (I think I forgot to take the picture of the oatmeal.- weird!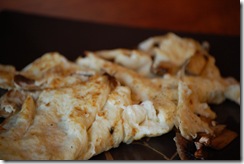 Then, during the run, I had another EAS bar.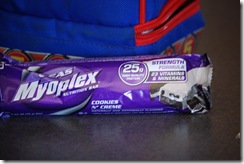 Then, as soon as I got home… I was famished of course. I ate chicken, sweet potato, carrots, and strawberries.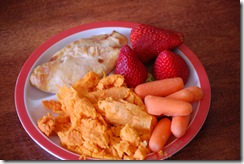 2 hours later, hungry already, I decided to make another one of the protein puddings.  Fat free-sugar free pistachio pudding, mixed with 1% milk and 1 scoop protein powder.  This is one of the few ways I'll eat protein powder.  I HATE it in oatmeal.   I don't think I could ever drink it mixed with water.  But pudding and smoothies are my only way I can stomach it right now.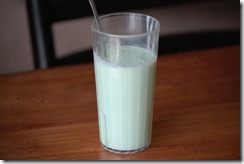 About 4pm, I ate a whole wheat tortilla with turkey, avocado, lettuce, tomato and fat free cream cheese spread.  IT WAS YUMMY!!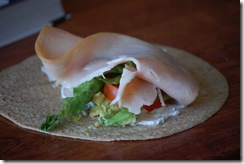 And last but not least, another reprise of yesterday's salad because I loved it so much.  I had greens, sliced almonds, chicken (2 tenderloins), strawberries, and olive oil and balsamic vinaigrette.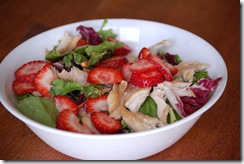 Then for dessert.. I ate a scoop of peanut butter with chocolate chips.. OOPS.. It was worth it. 🙂
OK, finishing up.. these actually don't look like big meals.  I perceived things way differently while I was eating I guess.