Monday!  Sometimes I feel like 5:00 isn't early enough for me. The more I can get done before anyone wakes up, the happier I am for the whole day.
So, I was up at 5, and made it to the gym by 5:30.  My husband suggested I download a Chemistry podcast (considering I'm trying to take it independent study) and I listened to that on the treadmill.  It was surprisingly helpful!  I can't wait to listen to the rest.. not literally, but it does make the subject easier for me to understand.
So, I walked/ jogged for 50 minutes, incline 2 and completed 3.8 miles.  Before returning home I stopped at the grocery store.  We were out of bananas and apples, and I have to have my banana every morning.
When I got home, the kids were still asleep! Hooray.  I read the paper. Then after they woke up, I made myself a smoothie:
8 oz soy milk
2 cups frozen mixed fruit (peaches, strawberries, and pineapple)
1 TBL Amazing grass
1 cup baby spinach
I gave the kids each a tiny bit of my smoothie.  Then made them some whole wheat toast with cinnnamon.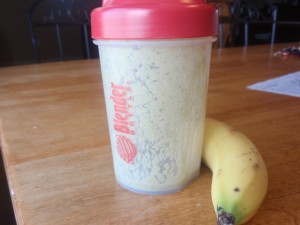 Then, although not hungry, I was freezing!  Even in the summer, mornings seem so cold to me.  So I had a small spoonful of Country Time Raspberry Lemonade in some hot water.  It really hit the spot.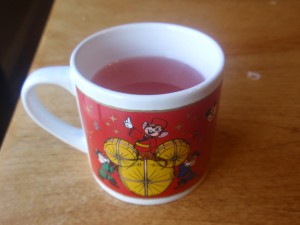 Now the kids are awake, and we've got lots to do.
Chores for the kids (they get laundry and dishes)
Chemistry for me, writing assignments for them
Read scriptures
Then hope the sun stays out so we can enjoy being outside!!