Body for life day 19 (Friday).
I woke up early for weights this morning.  But first did about 15 minutes on the stair stepper, just to warm up and read more about Serine Proteases.  But then my friend Eliece met me for the weights.  We did
barbell chest press and dumbbell fly
Dumbbell shoulder raises then overhead press
Compound row and lat pull down
Tricep extension and tricep dips
barbell bicep curls, hammer curls
We definitely fatigued with each exercise!
For breakfast
Egg whites, black beans, ezekial toast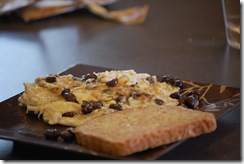 Then I had to get to a 9:30 Gold Medal Meeting, after the kids left. So I brought a Kashi bar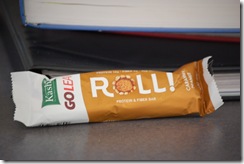 Around 11:30 I had some yummy, yummy blackberries and cottage cheese.  They were on sale 2.50 for 6oz.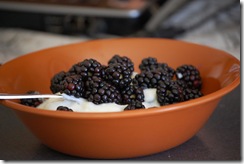 Then I had to get serious about studying.  The problem there… love to snack.. I actually had THREE BOWLS of popcorn!  And TWO granola bars (they did say protein on them :)!  It was not on purpose!
Then I realized I really needed to balance it out with some protein.
So, chicken and an apple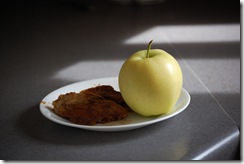 Then for dinner: Some chicken, two strawberries, and a huge pile of edamame.  My kids and my husband kept snagging the soybeans, but I shared.