Of course I'm not interested in weight loss, but body fat.  But without the body fat scale, my current weight is 122lbs! I'm pretty excited. It's hard for me to get under 125.
I had to eat before the workout today, cause I wasn't running till 9am.
So, for running energy I had.
8am Grapes, banana, whole wheat toast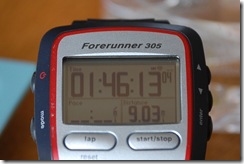 Ate a protein bar at 10am (during the run)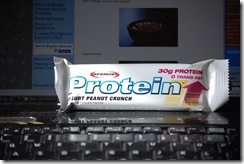 Came home starving, obviously.
12pm: More egg whites and a tortilla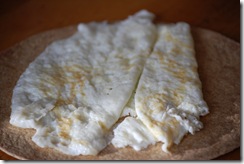 3pm: too long of a break between eating, so I was really hungry.  Another sweet potato…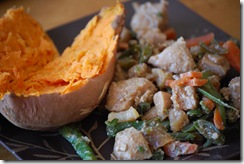 6pm: The end of the ranch chicken salad. It's finally gone. It gave me enough meals all week though, which was helpful in a hurry.  Also, Roasted broccoli.  My favorite way to eat broccoli is roasted with olive oil and parmesan.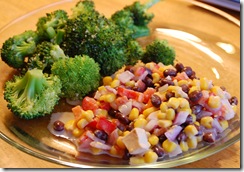 I'm so motivated to keep going. Day 7 should be a "Free Day" in official Body for Life fashion, but my jeans fit so well right now!  Being short, 5 lbs really makes a difference on my frame between my clothes being uncomfortably tight, and fitting just right.  However, I will need a free meal, because the Stake Presidency invited Wade and I for a light dinner at the church just before Stake Conference tomorrow night.  So, I will probably eat whatever is served.