We decided to use our flight miles to take our kids to Cairns, Australia for a family vacation! (Minus our oldest, Nate, who is still on his mission!).   Of course, getting the flight for free, didn't mean it wasn't expensive, but it was totally worth it!
It started the first Monday of Spring break. We arrived at the airport with 2 hours to spare. We aren't practiced in International Travel, so we didn't really know how long it was going to take to get to our gate. We are SO glad we got there early, because the first thing the Flight agent said was, "Do you have your Australian Visa's?"  WHAT? No one told us we needed a Visa for 1 week in Australia!  YOU DO!! Luckily, it's one of the easier countries to get a visa for, so we pulled out a tablet (the government website was not mobile friendly and didn't work on our phone.  We connected to the airport free wifi, and applied for 4 visa's!  And paid $25 for each one.  After completing those, paid the money, we had to wait for them to be approved. This thankfully, felt automated, because approval happened within 10 minutes.
Flights these days are so much easier than 10 years ago.  With your own personal screen and hundreds of shows to choose from, it honestly goes pretty quickly.  The flight over, we ate, watched a few movies, slept a little, and then we were there!   We also happened to have a Catholic nun, and a group of Mormon missionaries with their mission president on our flight- so I felt like God was watching over us 🙂 LOL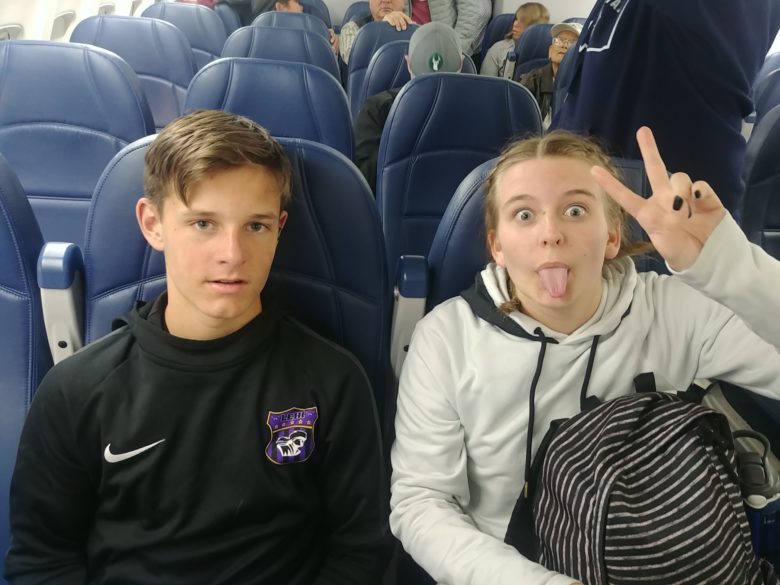 Flight #1 when they still had a little "fun" left in them.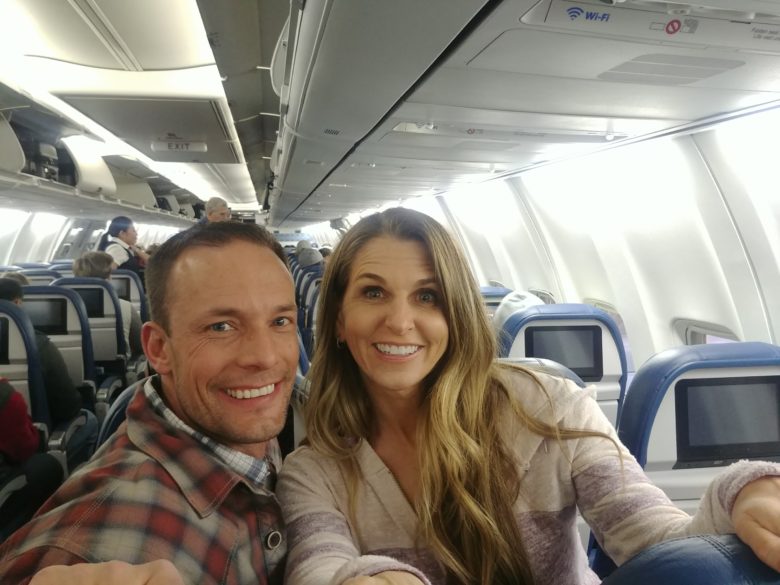 Hair still curled, and feeling great!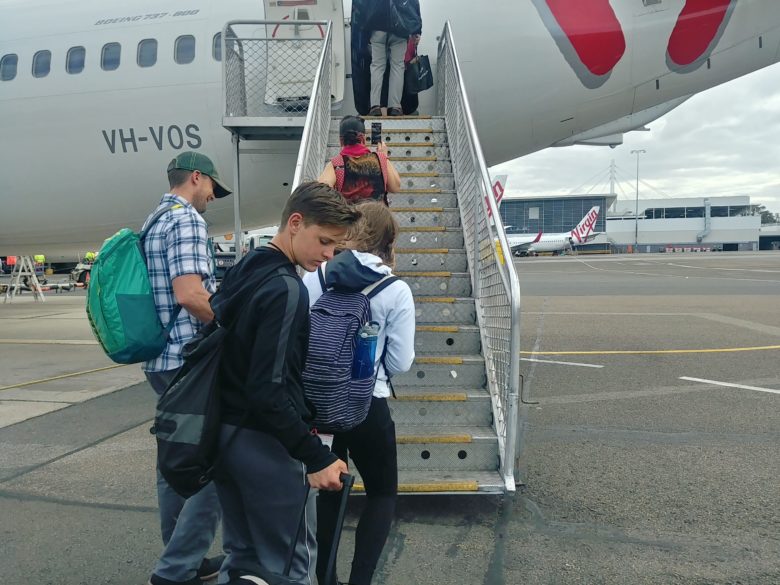 Our THIRD transfer. Sydney to Cairns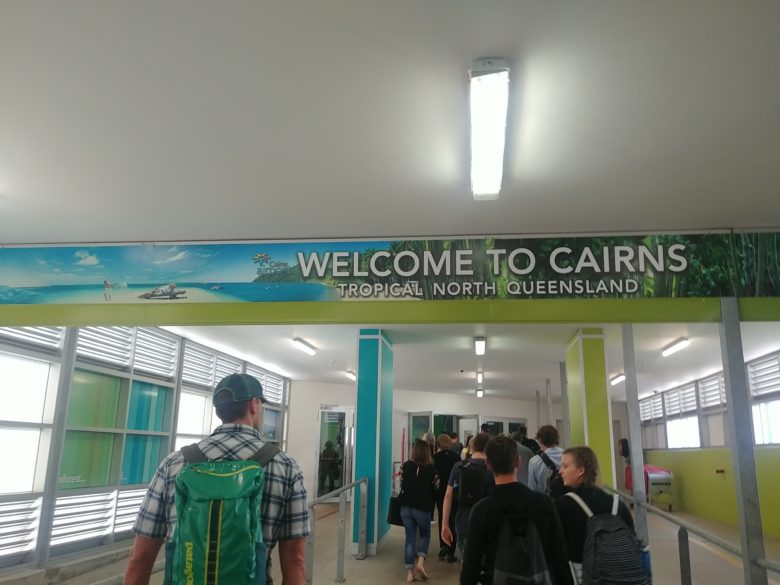 Finally in Cairns!
Once in Cairns, we checked into our apartment and headed down to the Esplanade on the water. Our apartment was only a few blocks from the water front, so we walked the path many times.  On the way to the water, we passed a few trees that were filled with very large bats!  Hundreds, if not thousands of bats were squawking and hanging from every single branch. It was insane to see!.
We were so thrilled when we arrived at the waterfront because we learned it was the first day of the Commonwealth Games, and Cairns was hosting a few of the athletic evetns. So, they had a full festival with music, art, crafts, vendors, dancing, and fireworks!  They also had massive screens around so people could watch the games.  It was a fun and eventful time to be there.

Exploring the city

Creative Art for the Commonwealth 2018 Games Festival in Cairns

The bats! Hard to see, but look closely!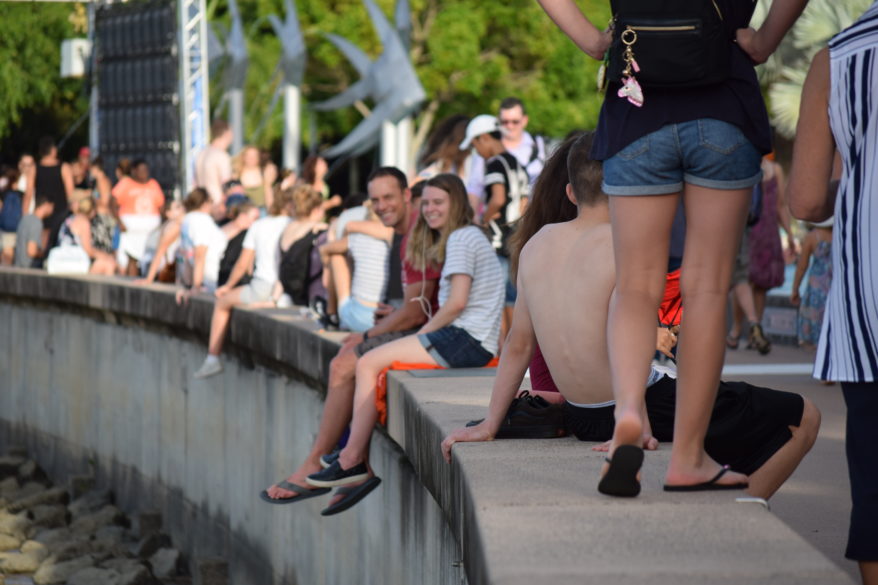 The esplanade in Cairns, Australia
Day 2 -4 – Diving Cruise
Because Cairns is such a tourist town, we never had to rent a car.  Every excursion we booked, we were able to arrange a pick up, right from our apartment.  So, by the next morning after we arrived, we were picked up by a PADI Liveaboard company, OceanQuest. The kids got certified to scuba dive while we were in Utah, so we were all prepared to see the Great Barrier Reef.  A shuttle boat took us out, gave us lunch, and on our first dive.  We then met up with the Liveaboard boat, got our rooms, meals, and diving every few hours, for three days! Altogether we had 12 dives. Two night dives, and two sunrise dives. We went to 3 different sites, and many lookouts. They included Norman Reef, Saxon Reef, and Sandra's reef.  Lookouts like Twin peaks, plate top, and turtle bay.
The staff on the ship were the best! They knew us all by name, remembered everything about us, and were so helpful and friendly. It was incredible.  The memorable parts of the trip:
Another passenger got stung by a Jelly Fish! He began having a reaction by convulsing and throwing up. We drove the ship all night to get him to a hospital in Cairns.
After a briefing when I think I understand which direction to swim to see the "good stuff", I get very disoriented under water! Luckily my kids were better at navigating than I was.
We saw Sharks, sting ray's, a turtle, and HUGE fish!
Our max dive time was 50 minutes, or if we get to 50 bar on air. Luckily, our dives lasted between 30-40 minutes because someone was always low on air, so we had to come up. I was secretly glad. Being down too long makes me nervous.
The water was VERY WARM!!  Although I wore two wet suits to be extra warm. This did make it hard for me to descend. I was extra buoyant.
The night dive was terrifying to me!  I could do nothing more than follow the guide's blue light. I didn't see ANYTHING because I was so scared of getting lost.
We made lots of friends, but our favorite was Magmus, a 21 year old kid from Denmark traveling alone!  We took him on our dives so he wouldn't have to hire a buddy each time.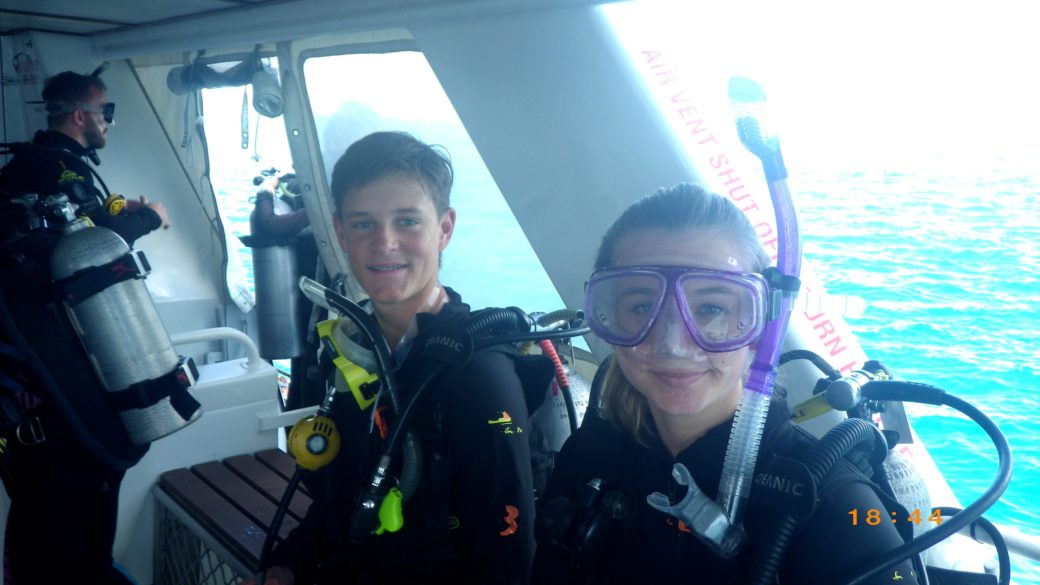 Erica and TJ ready for a dive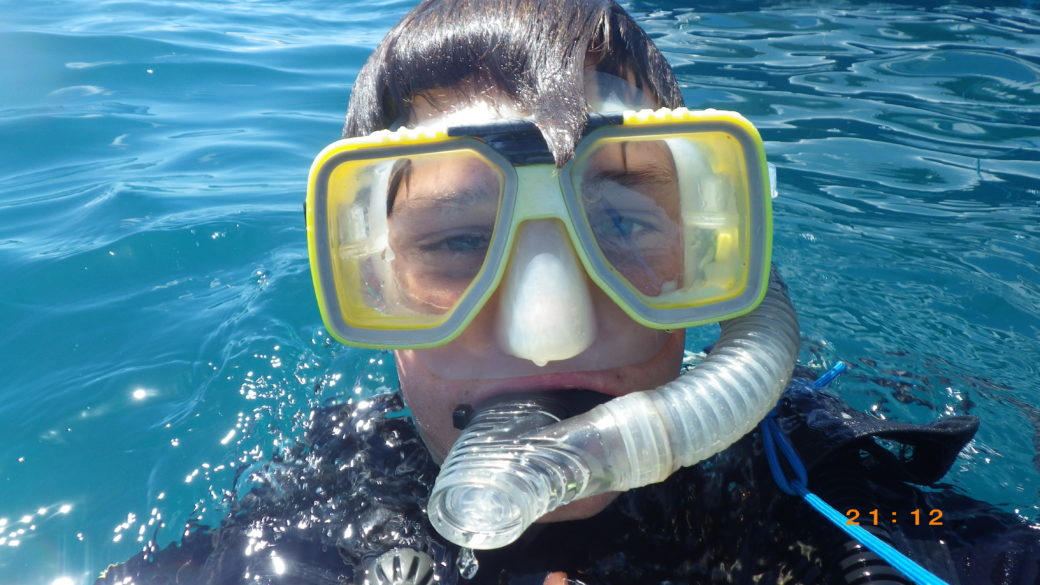 TJ in the water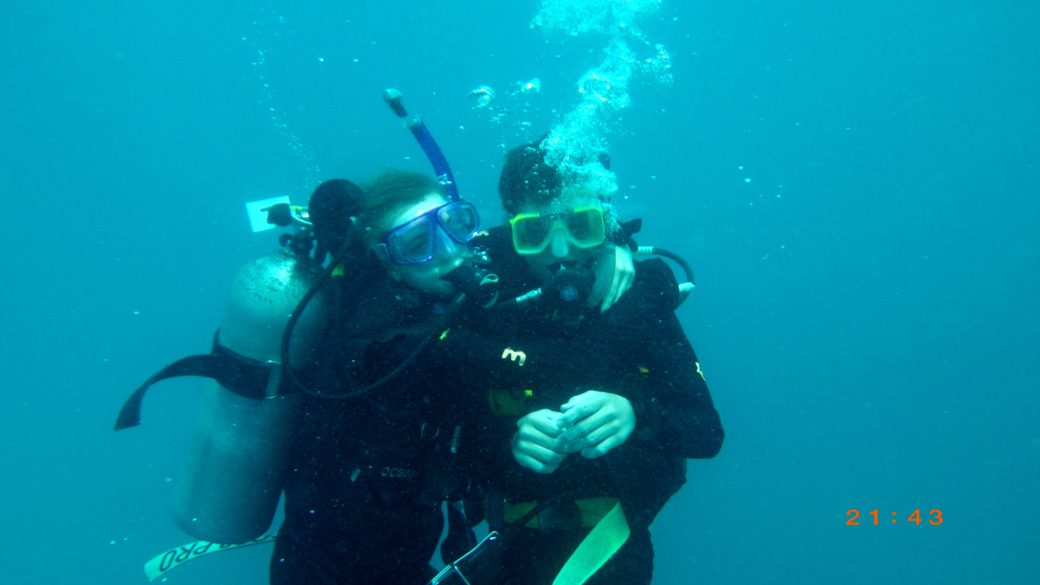 TJ and Erica having a moment together 🙂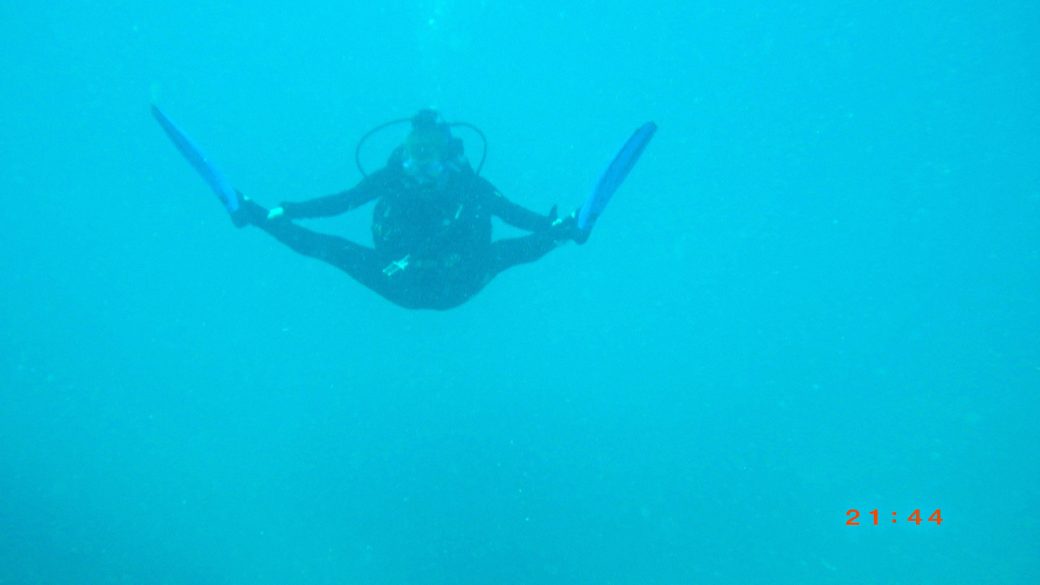 Erica doing a toe touch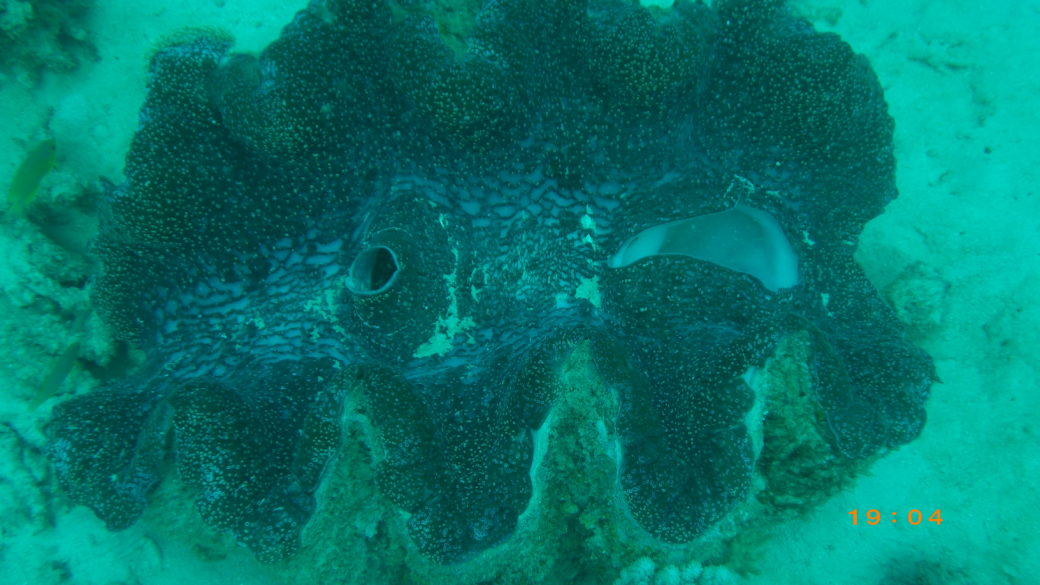 An underwater clam!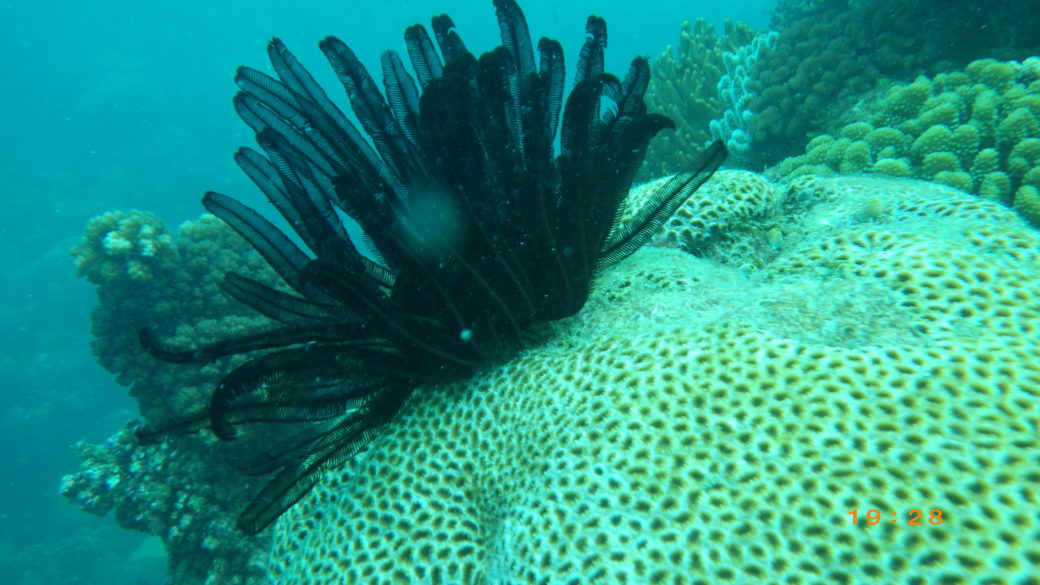 Crazy, beautiful coral in the Great Barrier Reef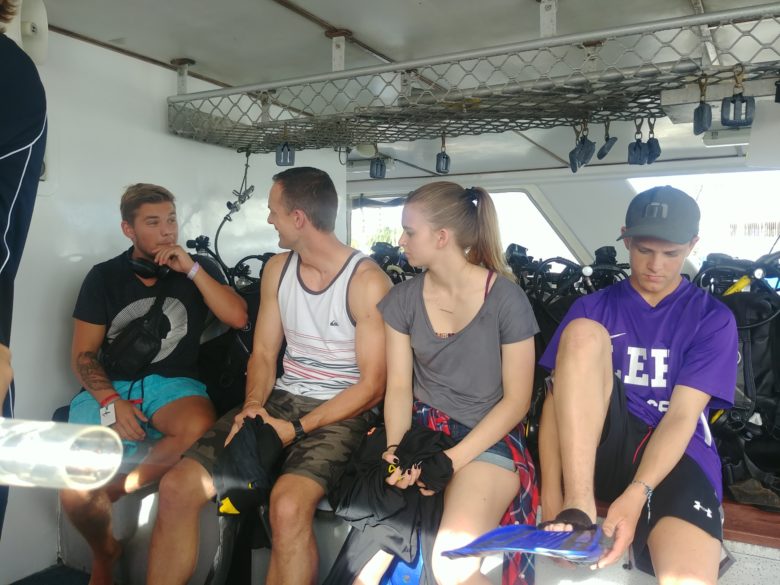 Getting ready for the first dive with our new friend from Denmark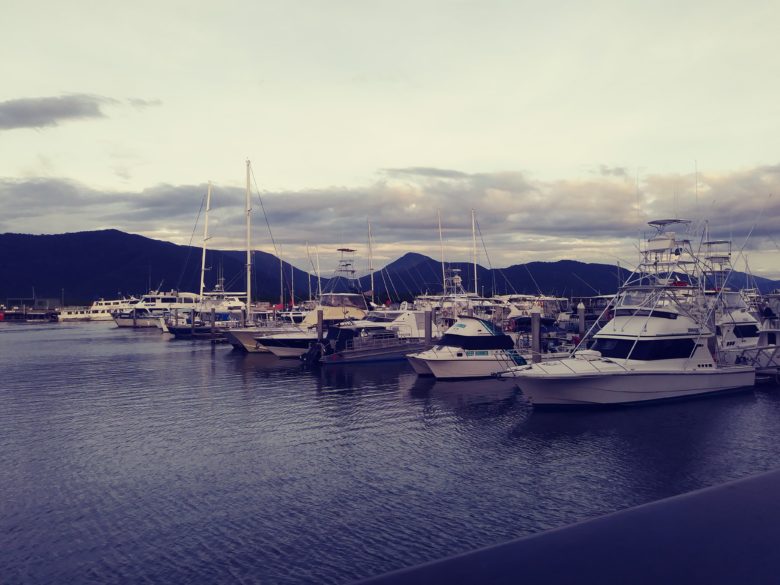 A photo Erica took of the ships in the harbor.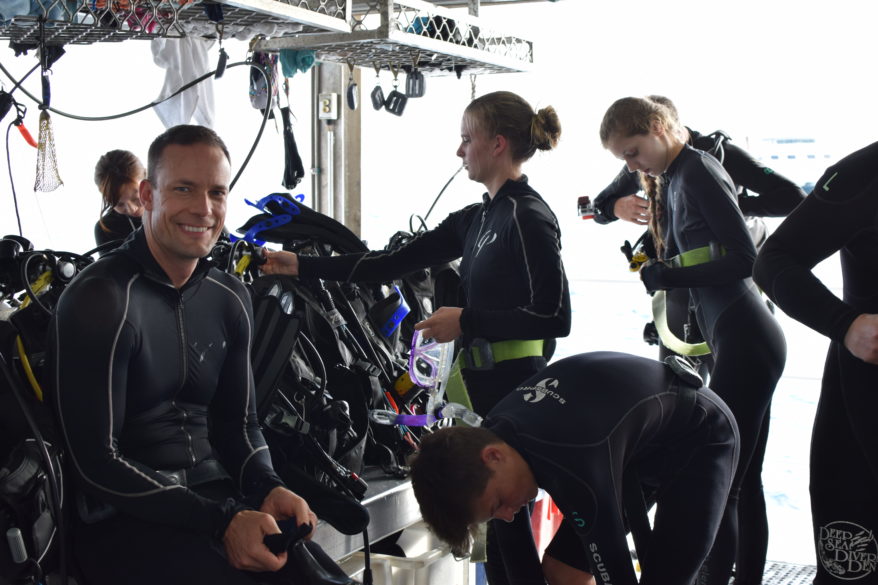 Getting ready for each dive was QUITE a production! So much to consider, check, put on, etc.  But, it was incredibly easier with the staff that filled our tanks, helped us get everything situated, and checked our equipment for safety.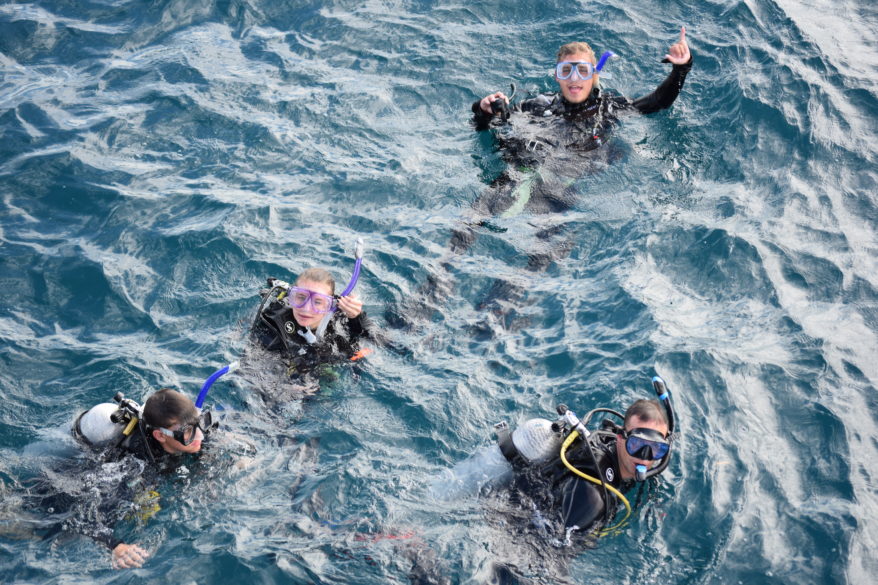 In the water, ready to descend.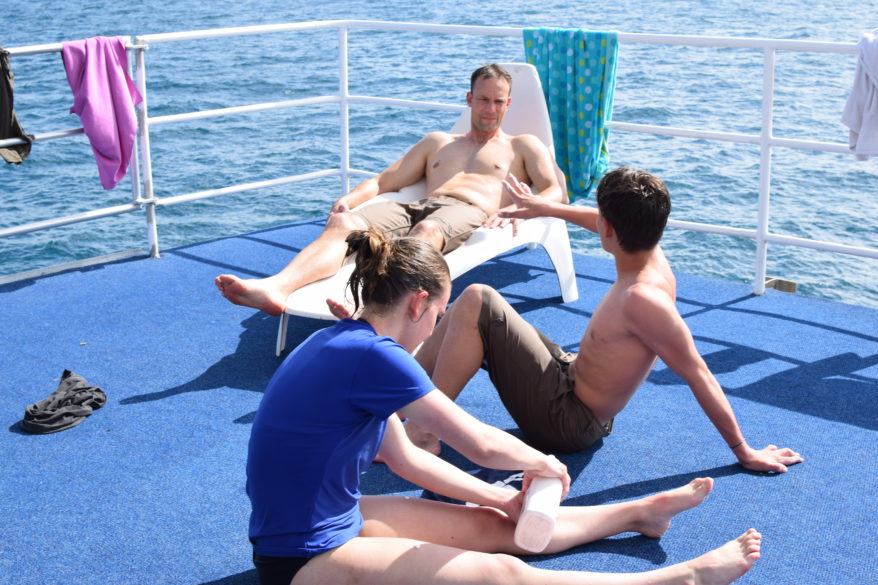 Drying off after a dive!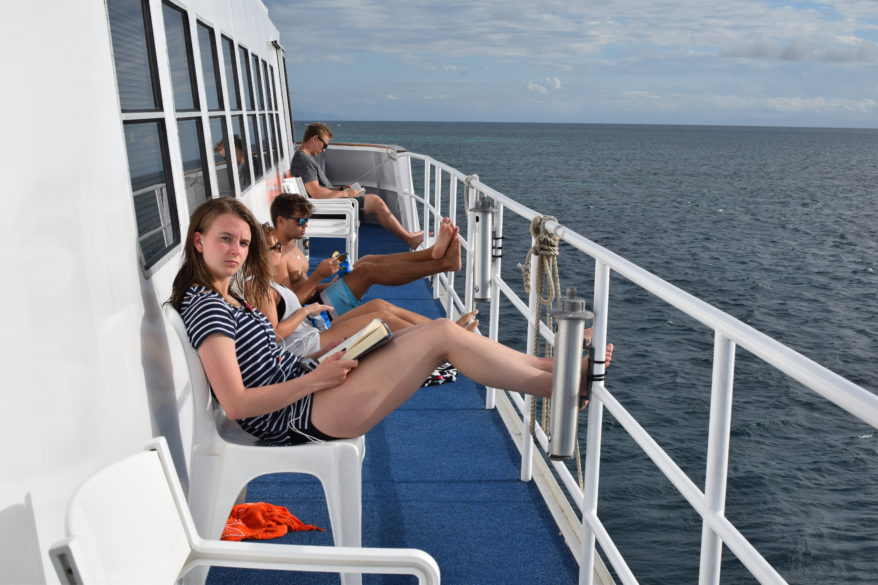 Reading and enjoying the boat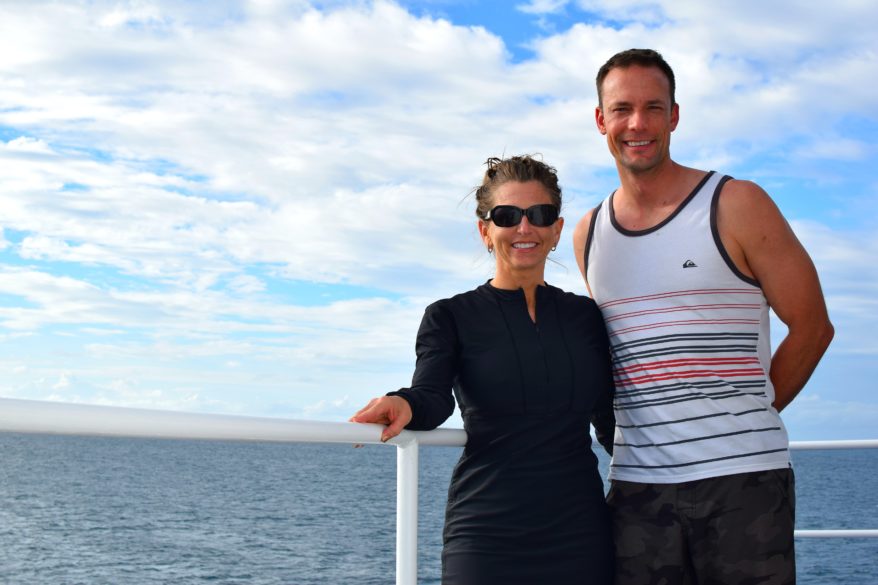 Wade and I on the deck of the boat.