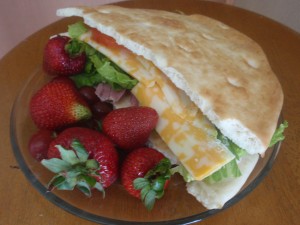 I'm eating my dinner so fast, I can't stop hiccuping.  I have another meeting to get to in 5 minutes, so this will be quick.
Lunch didn't happen till about 2:00. I had another pita sandwich, and some leftover fruit from this mornings activity.
Then we had T-Ball.  Didn't get home till 6:00 and I had a pile of laundry on our bed to fold. So Wade stepped up, like he always does, and mixed up something for dinner. One of his favorites to make:
Potatoes,
peppers,
eggs,
season salt.
It was good, but I still needed my greens for the day, so I roasted some broccoli.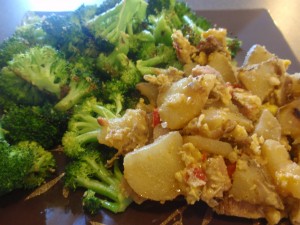 Ahhhh, getting late! Gotta Go!